News & Events: Discover Happenings at Morrisons Cove Rotary
 
CENTRAL HIGH SCHOOL UNVEILS NEW GYMNASIUM
Roaring Spring, PA: A ribbon cutting for the new Central High School Gymnasium was held on Tuesday, January 15, 2019, 7:15 p.m. prior to the Central High School Boys' Varsity basketball game against Tyrone Area High School. The event celebrated the combined efforts of Central High School and their community in the completion of their gymnasium renovation project.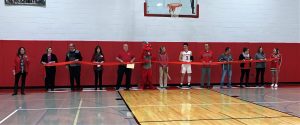 Dr. Betsy Baker, Spring Cove School District Superintendent, shared with the attending large crowd, "This project has truly been a community effort, and it makes me extremely proud to be a Dragon! We had a large number of groups and individuals who contributed to this project, and we greatly appreciate their support."
 According to Brian Gahagan, Spring Cove School Board President, the former gymnasium received significant water damage after a weekend of rainstorms in September of 2018. The 59-year-old floor was original to the building and had exceeded the lifespan of 50 years. Repairing only the damaged area was deemed impractical and not cost effective which led to the School Board to approve replacing the entire floor. Miller Flooring Company, Inc. of West Chester, PA was awarded the project with an estimated total cost of $275,000. The new gym floor has several unique features including an AACER PowerVent Airflow System under the floor humidistat, which triggers fan units to begin circulating air if moisture is detected. This feature proactively protects the new floor from water damage.
Although the bleachers did not sustain water damage, they were already slated for replacement in the summer of 2019 and the Board approved their immediate replacement as part of the project. The red Interkal Motorized Telescoping Bleachers have a seating capacity of 602 (including ADA seating), in comparison to the prior 544 seats.
 In addition, new red wall pads were purchased with the cost being offset by contributions from Central Athletic Booster Groups, which include a $500 donation from Curry Supply.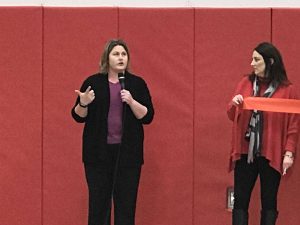 Morrisons Cove Rotary Club donated $6,350 towards the enhanced graphics for the gym floor including a larger center school logo, shaded three-point area, and red borders with Central at each end. "Morrisons Cove Rotary Club was proud to be able to step up and provide the funds for this great project," commented Chrissy Dively, Club Vice President. "As Rotary members, our fundraising allows us to give back to the community including this gym floor, providing dictionaries to Spring Cove School third grade students, sponsoring the Student of The Month and exchange students programs."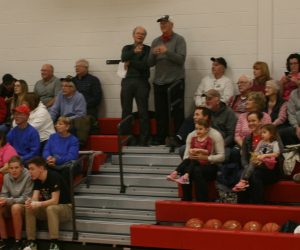 The Dragon Pride Foundation made a new Scorer's Table possible. Scott King, Dragon Pride Foundation Vice President, was present to affirm their donation of $3,578.75 to purchase the new table that will arrive soon. "The Dragon Pride Foundation through our fundraising efforts and community donations strives to support the education of all students K-12 of the Spring Cove School District by providing opportunities for enhanced educational, arts, and athletic programs while bolstering school pride throughout the Spring Cove Community. We are happy to contribute the new Scorer's Table to this newly renovated gymnasium," shared King.
 "In addition to the generous contributions from Morrisons Cove Rotary and Dragon Pride Foundation, a $30,000 donation toward this project was received from Anonymous Alumni," shared Gahagan. "We greatly appreciate this support. We look forward to another 50 plus years of school spirit and memory making."
Stephanie Thompson, Central High School Principal commented, "I am honored to be speaking on behalf of Central High School's students, staff, physical education department, athletic teams, and Boosters. We wish to thank the Boosters for contributing funds toward our new wall mats. At CHS we emphasize the pillars of Dragon PRIDE. Through this project, our entire school community has demonstrated adaptability, flexibility, and a positive attitude, and made the best of a difficult situation. We thank each of these groups. They make us proud to be Dragons."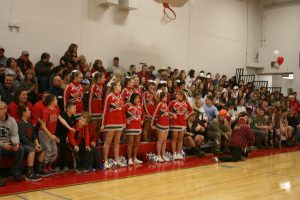 Stacy Kuster, Spring Cove School District Athletic Director, had the honor of cutting the ribbon along with an energized group of supporters including Dr. Betsy Baker, Spring Cove School District Superintendent; Chrissy Dively, Morrisons Cove Rotary Club Vice President; Scott King, Dragon Pride Foundation President; Stephanie Thompson, Central High School Principal; Brian Gahagan, Spring Cove School Board President; Spring Cove Dragon; Noah Muthler, Central Spring Cove High School Boys' Basketball Team/Boosters; Rob Mock, Central Spring Cove High School Girls' Basketball Team/Boosters; Dave Marko, Spring Cove High School Wrestling Team/Boosters; Sue Heuston, Central Spring Cove High School Girls' Volleyball Team/Boosters; Christine Wyant, Central High School Boys' Volleyball Team/Boosters; and Emmie Garver, Central Spring Cove High School Cheerleading Squad/Boosters.
All events scheduled for the gymnasium in December and early January were rescheduled to the opponent's facilities, Penn State Altoona, or to the Spring Cove Middle School. "This CHS gym renovation has required a tremendous amount of teamwork," commented Kuster. "Although the timing of these renovations wasn't ideal, everyone impacted has been very cooperative throughout the past four months. I take great pride in being a part of a team that helped make these gym renovations possible for current and future Dragons to enjoy for many years to come."
For more information on the Central High School Gymnasium renovation project, please contact Dr. Betsy Baker at 814-224-3060 or email at bbaker@springcovesd.org.
Up-and-Coming Events

FOURTH ANNUAL MORRISONS COVE ROTARY CLUB & DRAGON PRIDE FOUNDATION GOLF OUTING FRIDAY, JUNE 14, 2019
Save the date, Friday, June 14, 2019, for the fourth annual Golf Outing benefiting the Morrisons Cove Rotary Club and the Dragon Pride Foundation. Funds raised will be donated to support Morrisons Cove nonprofit groups in enhancing our community and its resident's lives. Both organizations make the most of every donation they receive. Collectively they support numerous educational and athletic programs, and volunteer at numerous community events.
Click Here to Download the Third Annual Golf Outing Brochure.
For more information contact Tom Kozminski 814-381-2909 or email tom.kozminski@morefield.com.
---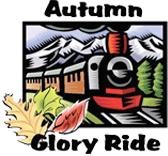 Autumn Glory Ride
Scenic Train Excursions Saturday, November 2, 2019
Tickets will soon be on sale for the Autumn Glory Ride Scenic Train Excursions, which will take place on Saturday, November 2. The Morrisons Cove Rotary Club sponsors the train ride. Tickets will be available at the Roaring Spring True Value or by phone reservation at 800-332-1543 with ticket pick-up at either the Roaring Spring True Value or the Roaring Spring Water Store.
Now in their ninth year, the Autumn Glory Rides are a beloved family tradition for many local residents and visitors. Participants enjoy scenic views and immerse themselves in local history as their train winds through the Allegheny Mountains of Blair County. The Morrisons Cove Rotary Club uses the proceeds raised by the excursions to support many causes in the Morrisons Cove area, including numerous youth programs.
Excursion tickets are only $12 per rider and all seats are reserved. Children under three may sit on an adult's lap at no additional charge. Riders may choose one of three excursion times: 10:00am, 12:30pm and 3:00pm. The train will depart from Roaring Spring's historic train station, located across from the World-Famous Spring and travel towards Hollidaysburg. Riders will disembark at Monastery Road for a historical presentation. The length of the ride is about 1.5 hours including the return trip to the train station.
The excursions feature authentic train coaches owned and operated by the Everett Railroad Company of Duncansville. Light food and beverages will be available at the Train Station including ice cream to benefit the Roaring Spring Historical Society. For more information on the Autumn Glory Ride, email the Morrisons Cove Rotary Club at info@mcrotary.com.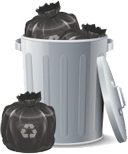 Clean-Up Days
Club members of all ages volunteer to maintain clean roadways and 'keep America beautiful' at locations in the Morrisons Cove area.
---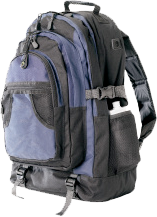 Scarlet Dragon Back Pack Program
Morrisons Cove Rotary Club members' involvement in the Scarlet Dragon Pack Program is a collaboration with other community churches and organizations, as well as with other community-interested people. Several of the club's members have an active role weekly or bi-weekly, while remaining Rotarians volunteer monthly to help stuff food bags and distribute food to Roaring Spring Elementary and Martinsburg Elementary Schools.
---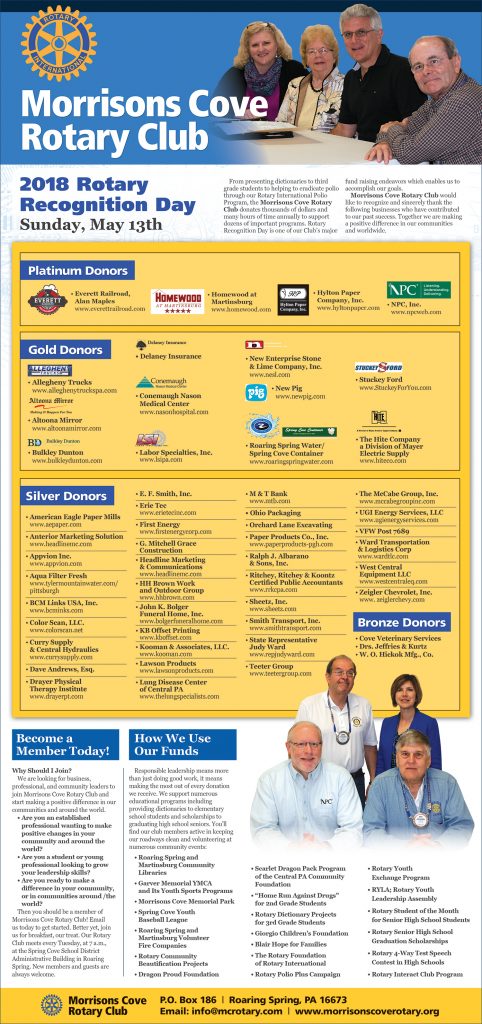 Rotary Recognition Days
2018 Rotary Recognition Day included a full page in the Altoona Mirror and posters of the full page distributed around the Cove featuring the Morrisons Cove Rotary Club and event sponsors, and special mentions of our sponsors and programs on our Club's Facebook page. Rotary Recognition Day is an annual event and one of our major fundraising endeavors, which enables us to accomplish our goals. Rotary Recognition Day creates awareness and informs the public of our many charitable causes, while also recognizing those who support Rotary financially. From presenting dictionaries to third grade students to helping to eradicate polio through our Rotary International Polio program, the Morrisons Cove Rotary Club donates thousands of dollars and many hours of time annually to support dozens of important programs. We thank all of our sponsors and Club members for their support and hard work to make 2018 Rotary Recognition Day another success.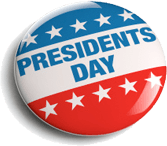 Past Presidents' Dinner
On July 12, 2016 the Morrisons Cove Rotary Club celebrated its 90th anniversary of Rotary in the Cove as well as recognizing its past presidents with a dinner at The Bistro in Martinsburg.  The event was attended by the newly installed District 7360 Governor, Richard Drukker, and the new Assistant District Governor, Pamela Wilt and their spouses.
Morrisons Cove Rotary President, Craig Carlson, brought the official part of the evening to order and after the Pledge of Allegiance, Four Way Test, and invocation began by welcoming guests and having Dan Hoover induct Betsy Baker into the Club as our first member in the 90th decade. District Governor Richard Drukker was the after dinner speaker and provided entertaining and illuminating information about the past and future of Rotary
Three members of the club received Paul Harris awards, two for the third time, Richard Reeve and Dan Hoover and one for the first time, Mrs. Marsha Biddle.  The Paul Harris award, named for its founder, is awarded to individual Rotarians that have supported the Rotary Foundation with $1000.  The foundation supports charitable efforts around the globe from fresh water to food and most notably, the eradication of Polio.  As of the dinner, two countries remain with reported new polio cases, Afghanistan and Pakistan.  Rotary is in the final stages of
its goal of total eradication of this disease.
As Rotarians arrived for the event they were greeted by a mint condition 1930 Ford truck on loan from Terry Long of Long's Outpost. A large inflated Rotary Wheel was also located outside near the entrance
to The Bistro. Wine and beer donated by members were available for a short social period prior to dinner. Rotarians took the opportunity to meet the new District leadership and get reacquainted with the spouses of our local members. The Bistro provided a perfect setting and service for the occasion. Kent Martin of Altoona provided wonderful music background for the gathering.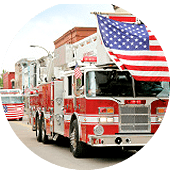 Civic Parades
MCRC participates annually in two community parades: the Roaring Spring Community Fireman's Parade and the Martinsburg July 4th parade.
---