Autumn Glory Ride Scenic Train Excursions
October 7, 2017 @ 8:10 am

-

5:00 pm

|

$10.00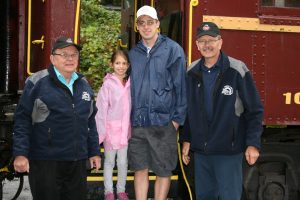 The Morrisons Cove Rotary Club has begun selling tickets for the Autumn Glory Ride Scenic Train Excursions, which will take place on Saturday, October 7th. This is the seventh year that the Morrisons Cove Rotary Club has sponsored the train ride, and they expect tickets to sell out, as they have in prior years. Tickets may be purchased at the Roaring Spring True Value, the Roaring Spring Water Store, or by phone at 814-224-5141, ext. 2255.
Now in their seventh year, the Autumn Glory Rides are a beloved family tradition for many local residents. Participants enjoy scenic views and immerse themselves in local history as their train winds through the Allegheny Mountains of Blair County. The Morrisons Cove Rotary Club uses the proceeds raised by the excursions to support many local causes in the Morrisons Cove area, including numerous youth programs.
Excursion tickets are only $10 per rider and all seats are reserved. Children under three may sit on an adult's lap at no additional charge. Riders may choose one of three excursion times: 10:00am, 12:00pm and 2:00pm. The train will depart from Roaring Spring's historic train station, located across from the Spring Dam Park and World Famous Spring, and travel towards Hollidaysburg before returning to the train station. The excursions feature authentic train coaches owned by the Horseshoe Curve Chapter of the National Railway Historical Society. The trains will be operated by the Everett Railroad Company of Duncansville. Light food and beverages will be available for purchase at the train station from the Roaring Spring Historical Society and local nonprofit organizations.
While the Autumn Glory Ride Scenic Train Excursions are a treasured local tradition, this year's rides feature a new additional treat sure to entertain and inform riders. Participants will disembark at Monastery Road, where U.S. Cavalry, Company A will stage a historical presentation about the months after the battle of Gettysburg. The ride, including this exciting new stop, will take about 1.5 hours.
For more information on the Autumn Glory Ride, contact the Tony Fago at 814-224-5141, email [email protected], or visit the Morrisons Cove Rotary Club website at www.mcrotary.com. The Morrisons Cove Rotary Club meets every Tuesday at 7 a.m. in the Spring Cove School District Administration Building. For information on club meetings or how to become a member, please call (814) 935-4183, email [email protected], or visit mcrotary.com.