News & Events: Discover Happenings at Morrisons Cove Rotary
2019 Kladder Station Reenactment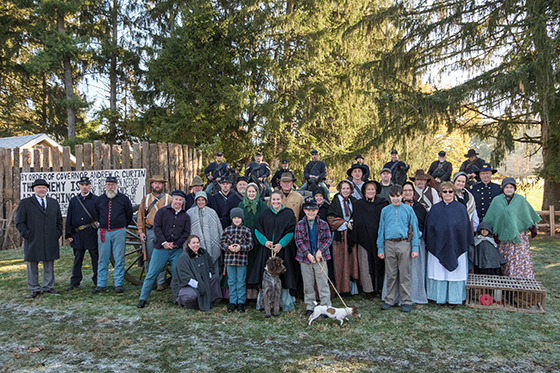 ---

Morrisons Cove Rotary Club Fifth Annual Golf Outing
The Fifth Annual Morrisons Cove Rotary Club and Dragon Pride Foundation Golf Outing will be held on Friday, June 12th at Iron Masters Country Club. Please check back or follow our Facebook page for updates.
Morrisons Cove Rotary Club Fourth Annual Golf Outing


The Fourth Annual Morrisons Cove Rotary Club and Dragon Pride Foundation Golf Outing, sponsored by Burger King of Roaring Spring, was held on Friday, June 14th at Iron Masters Country Club Fourth Annual Golf Outing a great success. This winning partnership raised a total profit of $9,722.13 this year thanks to a long list of sponsors, twice the number of golfers compared to last year, and many volunteers.
Click here to read more.
---
2020 Rotary Recongition Days
Register for a Sponsorship for the 2020 Rotary Recognition Days by clicking the button below.
Deadline for sponsorship registrations is April 24, 2020.
Rotary Recognition Day Sponsorship 

Rotary Recognition Days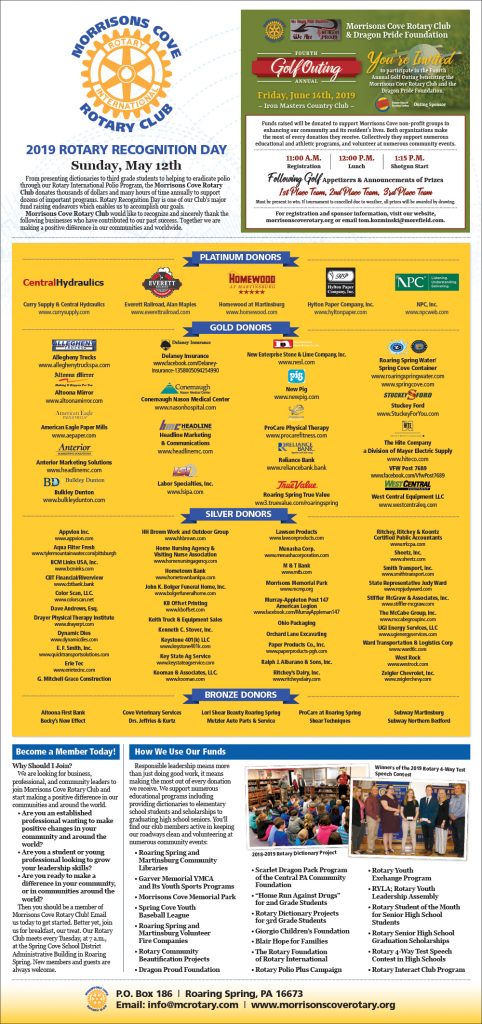 2019 Rotary Recognition Day included a full page in the Altoona Mirror and posters of the full page distributed around the Cove featuring the Morrisons Cove Rotary Club and event sponsors, and special mentions of our sponsors and programs on our Club's Facebook page. Rotary Recognition Day is an annual event and one of our major fundraising endeavors, which enables us to accomplish our goals. Rotary Recognition Day creates awareness and informs the public of our many charitable causes, while also recognizing those who support Rotary financially. From presenting dictionaries to third grade students to helping to eradicate polio through our Rotary International Polio program, the Morrisons Cove Rotary Club donates thousands of dollars and many hours of time annually to support dozens of important programs. We thank all of our sponsors and Club members for their support and hard work to make 2019 Rotary Recognition Day another success.
---
Up-and-Coming Events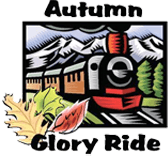 2020 Autumn Glory Ride
Scenic Train Excursions Date To Be Announced
Click Here For Ticket Payment Form
Information for the 2020 Autumn Glory Ride Scenic Train Excursions will be announced soon. The Morrisons Cove Rotary Club sponsors the train ride every fall.
The Autumn Glory Rides are a beloved family tradition for many local residents and visitors. Participants enjoy scenic views and immerse themselves in local history as their train winds through the Allegheny Mountains of Blair County. The Morrisons Cove Rotary Club uses the proceeds raised by the excursions to support many causes in the Morrisons Cove area, including numerous youth programs.
Excursion tickets are only $12 per rider and all seats are reserved. Children under three may sit on an adult's lap at no additional charge. The train departs from Roaring Spring's historic train station, located across from the World-Famous Spring and travel towards Hollidaysburg. Riders disembark at the present day Kladder Station along Monastery Road for a special presentation and then return to the Roaring Spring train station. The length of the ride is about 1.5 hours including the return trip to the train station.
The excursions feature authentic train coaches owned and operated by the Everett Railroad Company of Duncansville. Light food and beverages will be available at the Train Station including ice cream to benefit the Roaring Spring Historical Society. For more information on the Autumn Glory Ride, email the Morrisons Cove Rotary Club at info@mcrotary.com. And follow the Club's Facebook page at facebook.com/morrisonscoverotaryclub for updates and alerts on the Autumn Glory Rides.
---
CENTRAL HIGH SCHOOL UNVEILS NEW GYMNASIUM
Roaring Spring, PA: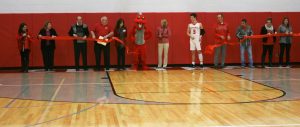 A ribbon cutting for the new Central High School Gymnasium was held on Tuesday, January 15, 2019, 7:15 p.m. prior to the Central High School Boys' Varsity basketball game against Tyrone Area High School. The event celebrated the combined efforts of Central High School and their community in the completion of their gymnasium renovation project. Click here to read more.
---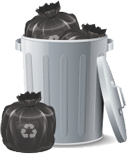 Clean-Up Days
Club members of all ages volunteer to maintain clean roadways and 'keep America beautiful' at locations in the Morrisons Cove area.
---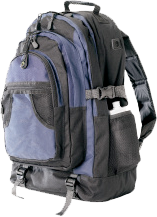 Scarlet Dragon Back Pack Program
Morrisons Cove Rotary Club members' involvement in the Scarlet Dragon Pack Program is a collaboration with other community churches and organizations, as well as with other community-interested people. Several of the club's members have an active role weekly or bi-weekly, while remaining Rotarians volunteer monthly to help stuff food bags and distribute food to Roaring Spring Elementary and Martinsburg Elementary Schools.
---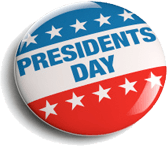 Past Presidents' Dinner
The Morrisons Cove Rotary Club annually holds its Past Presidents' Dinner to celebrate and recognize past presidents of the club. The dinner is a time to reflect on the past, present and future of Rotary and to highlight some accomplishments along the way. Each year The Paul Harris Award, named for its founder, is awarded to individual Rotarians that have supported the Rotary Foundation with $1,000. The Foundation supports charitable efforts around the globe, from fresh water to food, and most notably the eradication of Polio. The Past Presidents' Dinner is a great way for Rotarians to meet new leadership, reflect on what has been accomplished in the past, look forward to new goals and to show great appreciation to all of the presidents that have came before and the impact they have created on the Club.
---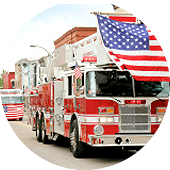 Civic Parades
MCRC participates annually in two community parades: the Roaring Spring Community Fireman's Parade and the Martinsburg July 4th parade.